The Case Chemist
News from the Department of Chemistry at Case Western Reserve University
FALL 2016 | ISSUE 109
 

 

 

Department Chair
Mary D. Barkley

Associate Chair
John D. Protasiewicz

Managing Editor
Robert C. Dunbar

Production Editor
Suzanne Mason
Fall 2016
Adobe Acrobat software is required. The newsletter is designed for print as a 5.5″x8.5″ booklet.
Full text available below.
---

Mary Barkley, Department Chair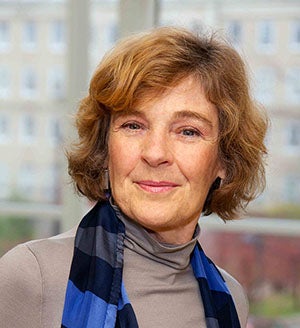 From the Corner Office
Around Campus
If you haven't been back to campus in the last 10 years, you really should come and check it out. The changes are awesome! Big happenings in Cleveland this year too, in case you missed them. The Cleveland Cavaliers (Cavs) won the 2016 National Basketball Association (NBA) Championship. Huge celebration downtown of over a million people. The 2016 Republican National Convention was in Cleveland in July.
Silver Hall, Phase One of the Milton and Tamar Maltz Performing Arts Center at the Temple– Tifreth Israel, opened with much fanfare in September 2015. The historic Violins of Hope Cleveland was a sold-out concert with Cleveland Orchestra musicians playing 26 restored violins. Fundraising continues for Phase Two of the Center, which will house performance theaters, practice rooms, and costume and scene shops for the theater, dance, and music departments at CWRU.
Think[box], an innovation and entrepreneurship center that first opened in 2012 on the Case Quad, moved into its greatly expanded new home, the Richey Mixon Building on Cedar Avenue. Think[box] provides free access to space, technology, and guidance to students, faculty, and staff as well as the public for tinkering and creating new products.
The new CWRU Health Education campus, a joint project with the Cleveland Clinic, is currently under construction and growing like gangbusters. It will eventually house the CWRU medical, dental, and nursing schools as well as the Cleveland Clinic Lerner College of Medicine of CWRU.
The Nord Family Greenway, an innovative urban landscape project, will soon connect the Tinkham Veale University Center with the Milton and Tamar Maltz Performing Arts Center at the Temple–Tifreth Israel on East 101st Street. The Cleveland Museum of Art and CWRU are partners on this open civic space with plans for an event lawn, amphitheater, paved walkway, and bridge.
The University received unprecedented support from alumni and friends in 2015–2016 for scholarships, endowed chairs, buildings, and research initiatives, representing the 9th new annual record in the past decade. We deeply ppreciate your generosity!
In The Department
Cyrus Taylor, Dean of the College of Arts & Sciences, was reappointed for a 3rd term of 5 years. Some of you may have had a chance to meet him on his trips to visit alumni or follow him on Facebook (https://www.facebook.com/cyrus.c.taylor)
Mary Barkley will step down as department chair at the end of the 2016-2017 academic year. The department and the dean will evaluate future leadership.
With inspiration from Emily Pentzer, the chemistry graduate students now have a vibrant Chemistry Graduate Student Association (CGSA). In order to support graduate student travel to conferences this past year, the CGSA provided the
coffee at departmental Colloquia and Frontiers lectures.
A new campus-wide laser facility with climate control for ultrafast laser systems is emerging from the planning phase. The CWRU Laser Facility will be located in the basement of Millis Hall in space formerly occupied by the stockroom.
The stockroom is moving into 2 rooms across the hall.
Special Grants
Robert Gilliard, a postdoc in John Protasiewicz's lab, received a UNCF/MERCK Postdoctoral Science Research Fellowship and a Ford Foundation Fellowship of the National Academy of Science. He was also named to Forbes 30 under 30 in Science 2016. Carlos Crespo received his 7th American Chemical Society Project SEED grant for summer research internships for economically disadvantaged high school students doing chemistry experiments in research labs. Eleven high school students from the Cleveland area spent 8 weeks in Summer 2015, and there were two returnees and 10 new students in Summer 2016.
Blanton Tolbert directed the 2nd year of the Research Experiences for Undergraduates (REU) grant from the National Science Foundation. The REU program provides summer research opportunities in Energy & Materials and Chemical Biology for 6 undergraduate students, who work for 10 weeks in faculty labs.
Faculty Honors and Awards
Geneviève Sauvé and Blanton Tolbert were promoted to Associate Professor with tenure.
Raj Viswanathan was appointed to the Frank Hovorka Assistant Professorship in Chemistry.
Emily Pentzer received a prestigious National Science Foundation CAREER Award.
Blanton Tolbert received the 2015 Morton L. Mandel Award for excellence in research and service. He was the 1st recipient of this newly endowed award to honor outstanding faculty in the department. You can read about Blanton's accomplishments here: http://chemistry.case.edu/2016/08/dr-blanton-s-tolbertfirst-recipient-of-the-morton-lmandel-award/
Carlos Crespo received the 2016 John S. Diekhoff Award for Distinguished Graduate Student Teaching.
Rekha Srinivasan received the 2016 J. Bruce Jackson, MD, Award for Excellence in Undergraduate Mentoring.
2015 Distinguished Alum: Gheorghe Mateescu
The Distinguished Alumnus Award for 2015 (Awards Luncheon, April 2015) went to the Department's own George Mateescu. (Licentiate, University of Bucharest 1951, and Ph.D. in Chemistry, CWRU 1971, now Emeritus Professor of Chemistry at CWRU). His entertaining and inspiring talk spanned his move (late '60's) from cold-war Romania to CWRU, working here with future Nobelist George Olah. His long Department service and research has centered on analytical instrumentation, methods, and applications, with a particular love of NMR and MR Imaging.
Comings & Goings
Jim Burgess left CWRU in January 2016 to become professor and chair of the Department of Medical Laboratory Imaging & Radiologic Sciences in the College of Allied Health Sciences at Augusta University in Augusta, Georgia. His two graduate students remained in the department to complete their PhDs at CWRU under the supervision of Jim and his collaborator Tom Kelley in the School of Medicine. Malcolm Kenney retired in June 2016 after 60 years of service to the department and CWRU. However, he continues to help out in the department by teaching the Chemistry Colloquium Series and serving as ombudsman for our graduate students.
Kelsey Forester replaced Shareese Bradley as a secretary in our office. Kelsey came to us from Michigan, where she was a librarian in the Ann Arbor public schools. June Ilhan, our graduate coordinator, retired after 40 years of service to CWRU. Adaobi Davidson replaced David Carrino as a Research Technician on our technical staff to assist with our undergraduate teaching labs. Adaobi is a recent graduate of Cleveland State University, where she did undergraduate research in David Ball's lab.
Research Spotlight: Rajesh Viswanathan
Research in Rajesh Viswanathan's group is at the interface of organic chemistry and chemical biology. The group develops synergistic tools to harness Nature's genomes for identifying biomolecular machines that afford new anticancer, antituberculosis, and other small molecule agents effective against drug-resistant pathogens. Specifically, they focus on developing synthetic methodology towards bioactive allosteric modulators of a key metabolic enzyme – human Ribonucleotide Reductase (hRR) – that has long been a cancer target (see below). Recently, they published a novel strategy to modulate the biophysical dynamics of this enzyme that drives the equilibrium from active dimer into inactive hexamers, through the binding of small molecules at a modulatory site. In collaboration with the Dealwis Lab (Pharmacology) and the Harris Lab (Biochemistry) they have developed nanomolar inhibitors of hRR that are the first non-nucleoside inhibitors that bind reversibly to the catalytic site of hRR. In the future, they envision these results to lead to new anticancer therapeutics that are far less toxic than current clinical agents.
Alumni Updates
Russell Bimber [MS '62 WRU]. Retired from Diamond Shamrock and related companies (1952-1995) as a Research Associate. He is working on chemical cleanup from old Diamond Shamrock operations near Lake Erie (see www.dscrt.com).
William E. Brenner, MD [BA '58, MD '62 WRU]. Retired Professor, enjoying every second.
Michael Brinkley (John) [PhD '70] retired 2010 as Director of Research from Thermo Fisher Scientific, Particle Division. Now living in Eugene OR.
Adeleen Darrah Olewiler-Bishop [BS '43 CIT] is retired.
Dimitri Coucouvanis [PhD '67 CIT]. After 15 years as professor of Chemistry at The University of Iowa, he went to the University of Michigan. Retired 2010 as the Lawrence S. Bartell Professor of Chemistry. Awarded the Morley Medal and the Distinguished Alumnus Award (CWRU) in 2005. Now member of a review panel of the European Research Council in Brussels.
Mildred W. Fung (previously Mildred Wai-YumMah), [MS '64] is retired.
David W. Goetz [BS '68 CIT]. Employed at Exemplar Allergy and Asthma as an Allergist/Immunologist. Princeton University 1968−72, PhD in Chemistry. His Air Force career spanned 27 years, doing chemistry, pediatrics and Allergy/Immunology. Then 18 years of allergy/Immunology practice in Morgantown, and recently retired.
Robert Haynie, MD, PhD [GRS '72; MED '78]. Employed at CWRU, Associate Dean for Student Affairs and Associate Clinical Professor in Medicine. Newton D. Baker Distinguished Service Award (Homecoming 2015). Work with incoming students, and work on efforts to increase minority enrollment.
Robert D. Kahn, BA, MS, PhD, MD [BS 57 CIT; PhD '61 U of Michigan; MD '69 CWRU]. "I was an Orthopedic Surgeon. Since retiring about 2001, I have traveled, built three harpsichords, and play the last one daily (Bach, who else?)."
William Scott Kehs [MA '66 WRU]. "I am a retired former teacher of computer software courses at Lansdale School of Business, Lansdale, PA for 25 years."
Christ A. Kolonis, MD [BA '58 WRU]. Retired, Otolaryngologist. "I received my MD from The Ohio State University in 1962; ENT Practice Nalle Clinic, Charlotte, NC 1969-2000; Chief ENT Department, Carolinas Medical center 1985-1995; Retired 2000. Volunteer at Habitat for Humanity."
Craig A. Marvinney [BA '79; JD '82]. Partner at Walter & Haverfield LLP; marvinney@walterhav.com. 2015 Elected to the board of directors of the Federation of Defense counsel (FDCC), a worldwide peer reviewed organization of 1,400 lawyers.
Gheorghe D. Mateescu [PhD '71]; Case Western Reserve University, Emeritus Professor. Published on cell bioenergetics in Proc. Intl. Soc. Magn. Reson. Med. Summer Research student Yashasvika Duggal coauthored a poster "Multinuclear NMR Investigation of Tenebrio molitor Metabolism," at the OSU Symposium celebrating the new NMR Facility.
Paul J. Nagy [BS '70]. Employed by Richmond VA, City Public Schools as a Math Tutor.
Nobuyuki Nakajima [PhD '58 CIT]. Currently Research Professor at the Institute of Polymer Engineering, University of Akron. WR Grace 1960-1965; Allied Chemical 1965-1971; BF Goodrich Chemical 1971-1984; University of Akron 1984-1994, retired 1994. About 200 publications and a book. Interests in Plastics and Rubber, as well as Culture and Life Ways of Native Americans. "I also enjoy figure skating, downhill skiing, classical ballet, and classical piano."
Thomas Nowak [BS '64 CIT]. Retired from The University of Notre Dame as Professor Emeritus.
Ronald R. Oetgen (Ron) [BA '60, MS '62, PhD '65 WRU]. Roanoke College, Salem, Virginia, Professor of Chemistry and Biochemistry (Emeritus). "I retired in 2006 after 39 years teaching. I still tutor chemistry students in high school and community college."
Marie D. Rutenbergs [legally since 2001] (previously known as Dzidra Maria Rutenbergs at Flora Stone Mather) [BA '55 WRU]. Asst. Professor in Mathematics, Towson University (Baltimore) from 1967 to retirement in 1999. Busy traveling.
Jaime Padilla-Sorzano [PhD '74 (with Dr. Malcolm E. Kenney)], (email) pradillaja@yahoo.com. "My new book, "A Vision of Human Understanding" that was translated from Spanish to English by my son Ricardo has now been published and is offered through Amazon."
Richard Sovish [MS '50; PhD '54]. Retired from Raychem Corporation (now a part of Tyco corporation), as Vice President and Corporate Technology Director in 1995, living in Pleasanton, CA. About 30 patents and publications.
Thomas M. Sutliff [PhD '70]. "I am now retired. I retired for the second time in 2014. Spending time resisting children, volunteering at our church and catching up on home repair projects."
Arthur Warwick [BA '66 WRU]. Psychiatrist. "I retired 5 years ago after practicing for 40 years as a Psychiatrist. Presently, my main interest is Tai Chi."
John Vance Wilson [BS '75, MS '82]. After several years at J&J and Amgen, now responsible at Baxalta (Senior Manager of Process Science and Technical Operations) for Factor VIII to treat hemophilia.
Dorothy Pan Wong [PhD '64 CIT]. Retired as Professor of Chemistry in 1997 from California State University-Fullerton. PhD from Prof. Donald R. Whitman as 2nd woman chemistry PhD from CIT.
In Memoriam
Jane H. Rigo, [MS '48] US Steel, retired 1980, Research Chemist. Died March 29, 2015, at age 94.
Chisung Wu, [PhD]. Passed away 3 years ago.
Faculty In Memoriam
John E. Stuehr, Professor Emeritus, died July 5, 2015, at the age of 79. As a youngster, he aspired to be a classical violinist, but his later interest in chemistry led to his eventual career. He received his BA (1957), MS (1959) and PhD (1961, studying with Professor Ernie Yeager) all from Western Reserve University. After a post-doc with Manfred Eigen in Goettingen, in 1963 he returned to WRU (and CWRU), rising to Professor in 1974. He was Chair of the Chemistry Department from 1977-81 and Associate Chair from 1993-2008. John's research was focused on kinetics of very fast reactions, primarily involving metal ions and biological systems. He received the Sigma Xi Research Award from CWRU in 1972. He loved teaching, and co-authored the text book "Chemistry for Scientists and Engineers" (Saunders 2000).
---

We want to hear from you!
We are proud of the accomplishments of our faculty, students and alumni. Let us know about job changes, awards, honors and life events. Please email your news and contact information updates to chem-updates@case.edu.
Alternatively, you may mail your updates on a letter or postcard. We ask that you please include your name, current date, your CWRU degree(s) and year(s) (e.g. BS '78), address (city, state), employer, position or title, as well as the news about your career, honors, or major life events.
ATTN: Robert C. Dunbar
Department of Chemistry
Case Western Reserve University
10900 Euclid Avenue
Cleveland, OH  44106-7078