2017 Fellows
Austin Allen – Denison University
Daphney Bonner – Howard University
Eduardo Guzman – University of Rhode Island
Michael Lu-Diaz – University of Puerto Rico, Mayaguez
Joshua Ross – Morgan State University
Emma Whiting – Washington University in St. Louis
2016 Fellows
Laura Alonso
I am a third year undergraduate student majoring in Chemistry. I am from Chicago and I attend Elmhurst College, a small private liberal arts college in the suburbs of Chicago. My interest in Chemistry comes from the subject itself. I enjoy learning anything and everything about the subject, no matter what area. After graduation, I intend to continue my education and receive a PhD in the field. Ultimately, I would like to focus my studies on Cosmetic Chemistry, in pursuit of becoming a Cosmetic Chemist. In my spare time, I like to relax, sleep, and listen to music.
Summer Research Title: Simultaneous Reduction and Functionalization of Graphene Oxide via Ritter Reaction
Jesba Bas-Concepcion
I am from Carolina, Puerto Rico. I am a Chemistry major at the University of Puerto Rico, Río Piedras Campus (UPR-RP) and am a part of the RISE and MARC Scholars. My chemistry interests are based on Medicinal Chemistry (Bioimaging and Photothermal based-ligands) and Pharmacology (drug synthesis/delivery) areas where I plan to focus on my doctorate degree after I graduate. Other than working at my research lab, in my spare time I like to run, go to the beach, and do community work with the American Medical Student Association (AMSA) and the American Chemical Association (ACS), UPR-RP Chapter.
Summer Research Title: Synthesis of Zn-doped Iron Oxide Nanocubes for Hyperthermia Studies and the Fabrication of a Magnetic Hydrogel Drug Carrier System
I am studying at the University of Puerto Rico-Humacao Campus. I am interested in the study of photochemical properties of compounds and drugs using spectroscopy techniques as a tool. I am most interested in its use to find new photosensitizers for photodynamic therapy (PDT) for treatment of different skin cancers and psoriasis. After graduation, I plan to begin work on my doctorate degree with a focus on Photochemistry. When I'm not in the lab, you might find me at the gym, running, swimming, or lounging on the beach.
Summer Research Title: Are Photochemical Side Effects Induced by the Azathioprine Drug or Its Metabolites?
Rachel Polak
Summer Research Title: Identification of a 4-Hydroxy Acyl-CoA Kinase Via a Functional Assay
I am from Saint Louis, Missouri. I am a junior at Jackson State University pursuing a Bachelor's degree in Chemistry. I gravitated towards Chemistry, so I may help others through researching the cause and possible cures of life-threatening illness. I plan on attending graduate school to obtain a PhD where I will be able to continue contributing to the world of medical research. In my spare time, I enjoy working with children to enhance their math and science skills, as well as doing volunteer work.
Summer Research Title: Structural Insights Into G-tracts Recognition by the hnRNP H Recognition Motif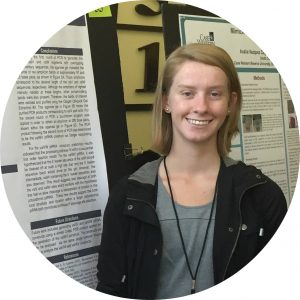 Melissa Yamsek
I grew up in Brecksville, Ohio and currently attend school at the University of Toledo, studying medicinal biochemistry. I have been involved in research since my freshman year and have found the experience to be highly rewarding, having had the opportunity to travel to several conferences and earn co-authorship on a couple of publications. I find biochemical pathways to be extremely intriguing and would like my future work to be within the fields of drug development and proteomics. I intend to continue onto graduate school to obtain a Ph.D. in either bioanalytical or medicinal chemistry. In my free time, I enjoy trying out new recipes, biking, and snowboarding. I am really interested in animals and have a hedgehog named Hedgey, in addition to a couple of fish. I am also the proud owner of a Venus fly trap and my life goal is to travel into space.
Summer Research Title: Determination of the RNase P Mechanism for the Observed 3' to 5' Directional Processing of Polycistronic ptRNA
2016 Chemistry REU Fellows (Second row, left to right), Taylor Turley, Rachel Polak, Melissa Yamsek, Jesba Bas-Concepcion, Laura Alonso, Luis Ortiz-Rodriguez, (First row, left to right), Co-director, Dr. Emily Pentzer and Program Coordinator, Kelsey Forester.